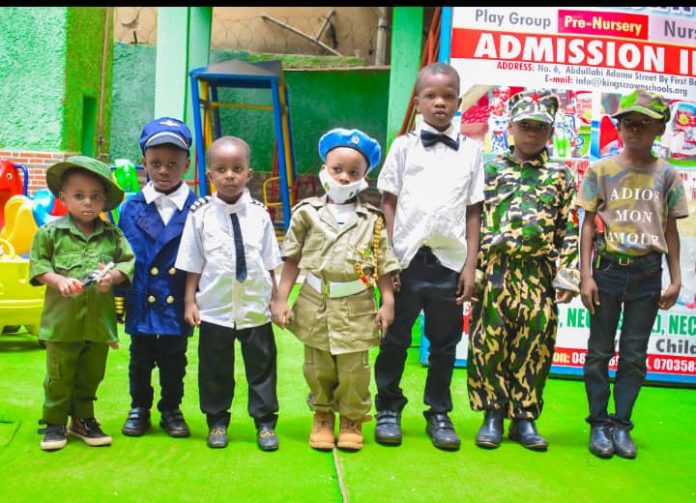 A 3-year-old boy, Master Emmanuel Itodo, on Thursday, caused a stir in his school, as teachers and other pupils throng out to admire his Peace Corps uniform which he wore to school on career day.
Master Itodo is a Nursery one Pupil of King's Crown International Academy, Abuja.

While other children wore various attires to represent their respective choice of careers, Master Itodo decided to wear a complete combat uniform and kits of the Peace Corps of Nigeria, an agency which Bill is currently before the National Assembly for passage.

Mother of the child, Mrs. Tina Itodo, who brought the boy to school, told News Agency of Nigeria that her son had always admired the Peace Corps uniform and has been angling to wear it, adding that, she only needed to encourage him achieve his desire.

Mrs. Itodo, who underscored the importance of Peace in the society, said that, people often plan their lives and career without putting the peace, safety and unity of the society into considerations.

She added that, there would not be a conducive Nigeria for anyone to live in or pursue his or her career, if the environment was not peaceful.

"There must be a need to cultivate an environment of peace and it begins with the children. If they are taught how to live in peace, grow in peace, work in a peaceful environment, then the society will grow in peace and live in peace. It is not only when one dies before you will write REST IN PEACE! Teach people to live in peace too and the world will be peaceful.

"The school children are beginning to get used to kidnapping and all other social vices around the school environment, what they need now is to plant seeds of peace, so they could also know that they can live in peace too", Mrs. Itodo added.

Peace Corps of Nigeria, a non governmental organization with a consultative status with the United Nations and ECOWAS, was formed in 1998 by Prof. Dickson Akoh, who is currently the National Commandant.

Attempt to make the Corps a government agency failed in February 2018, when President Muhammad Buhari withheld his assent, citing paucity of funds as excuse.

But while leading a debate during the second reading of the re-gazetted Bill before the 9th Senate last year, Chairman, Senate Committee on Army, Senator Ali Ndume, told his colleagues that, the issues raised by the President had already been addressed in the new Bill.
The Bill for an Act to establish Nigerian Peace Corps is currently at the final stage of passage at both chambers of the 9th National Assembly, for onward transmission to President Buhari for assent.
When assented to, the Act would give legal backing to the existing Peace Corps of Nigeria under Prof. Akoh, which shall be exclusively be responsible for intelligence gathering, orientation and security of students, pupils and the school environment.