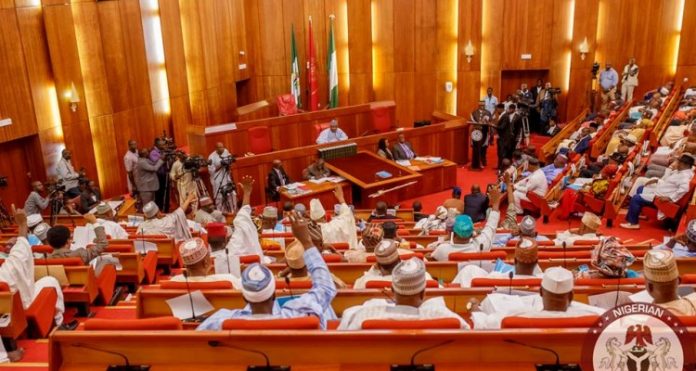 By Saminu Ibrahim
The Nigerian Senate on Tuesday resolved to identity the Lawyer who collected $4 million as payment for professional fee for the management of excess crude account .
This comes as the Accountant General of the Federation, Ahmed Idris, revealed that no Kobo out of the projected N2.465trillion capital expenditure component of the N10.33trillion 2020 budget has been released.
Indeed, the Accountant General during an interactive session with the Senate Committee on Finance, revealed the $4m paid to a lawyer from the Excess Crude Account as professional fee last month .
He explained to the Committee how the account depleted from $325million last month to $71.8million this month.
According to him, the balance in the excess crude account as at January 2020 was $325 million, the National Economic Council (NEC) agreed to invest $250 million into Nigeria Sovereign Investment Authority (NSIA) and $4 million was paid as professional fee to an unknown lawyer.
The inflows into the Excess Crude Account he added ," have been fluctuating due to the positive and negative variances in the price of crude.
"The Transfer into the account has witnessed downward trend in view of the low oil prices, particularly from year 2015 to date.
"The highest excess inflow of the sum of $17.344 billion was recorded in 2008 while the lowest excess inflow of the sum of $0.276 million was recorded in 2015.
'"The weighed average price in 2008 and 2015 was $103.67 and $39.04 respectively. The balance in the ECA as at 2nd March , 2020 is $71.8 million".
But prodded about the identity of the lawyer by the Chairman of the Committee, Senator Solomon Olamilekan Adeola ( APC Lagos West), who collected $4m for professional fee, he said " I don't have the details now but will be provided later " .
Apparently not satisfied with the response of the AGF, the committee chairman and members insisted that he must unveil the identity of the lawyer .
"Your explanations on how monies in the account were spent between January this year and now are clear to us but the $4m recorded to have been paid to an individual for professional legal fee, needs further explanation with identity of the lawyer " , Senator Adeola said .
Idris had earlier in his submission on releases made so far for the implementation of the N10.33trillion 2020 budget , said not a single Kobo has been released out of the N2.465 trillion capital expenditure component of the budget .
He however said that N493 billion has been released for personnel cost while N59.77 billion released for consolidated pension , N46.6 billion for overhead cost while only N20.76 billion for capital supplementation.