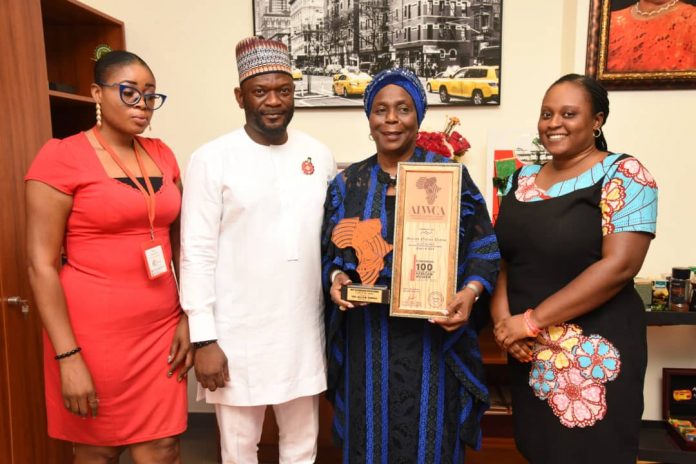 Senator Abiodun Olujimi, representing Ekiti south senatorial zone, on Thursday bagged the African Leading Women Award in 2021.
The award was bestowed on 100 distinguished women on the African continent in 2021.

Presenting the award to the lawmaker, President of African Leading Women Organization, Ambassador Chris Odey, said Olujimi's choice followed her track record at the National Assembly.

Odey said "we are here because we feel she is a woman that has done well in the National Assembly. She was once a deputy Governor and a ranking Senator for that matter". 

Specifically, the organizers of the award said "she has been the voice of the women and youths".
According to Odey, "the award was 'African Leading Women Award', one hundred most distinguished women in 2021 class".
Speaking to newsmen shortly after the award, Senator Olujimi said it was honourable to be counted among 100 women in Africa for 2021, "that is a great honour. To imagine that I didn't expect it, but, you thought me fit to be one of them, I am extremely grateful".

The former deputy Governor of Ekiti state said "for me, this is an encouragement, and it means more work, what we have done is still insufficient and that we should continue and do a lot more".

"It is also good to note that what we are doing is for the benefit of Nigerians, it is for the good of our constituents and to make Nigeria better. When you are involved in the Parliament, you are asked to come and make laws for good government and for the ease of life of our constituents and that is what we do.

"once in a while we also try to ensure that we reach out to the less privilege in the society and also to attract empowerment and Programmes into our constituencies and make life a bit better for them".

Olujimi, who is also a governorship aspirant in the 2022 gubernatorial election in Ekiti state expressed optimism that for once Nigerians will speak with one voice and say we want to make a difference, we want to give 50 percent of the population a voice.
 
"I assure you when we win we will make a big difference".
On women and youths in Ekiti state, she added, "for me, am not going to segregate, we are all equal in the eyes of God, explaining that the most under privileged are women and youths and the People with Disabilities, "but the first thing would be how to make life comfortable for everybody. And am saying we are going to make a great difference" Olujimi said.