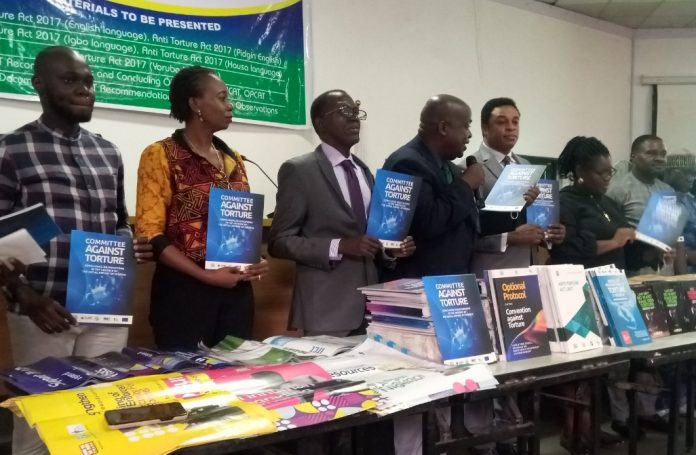 The Prisoners Rehabilitation and Welfare Action (PRAWA), on Thursday unveiled anti torture resource materials to commemorate the 2022 international day for the support of victims of torture.

Dr. Oju Agomoh, Executive Secretary of PRAWA noted that following the criminalization of torture in Nigeria, through the Nigeria Torture Act 2017, "we have realised that we need to begin to raise our voices, there is need to say no to impunity".
She said PRAWA was establish on 16th December 1994. 

The event was held in collaboration with with the National Human Rights Commission (NHRC).

The United Nations International Day in Support of Victims of Torture is an international observance held annually on 26 June to speak out against the crime of torture and to honour and support victims and survivors throughout the world.
According to Agomoh, "there is a need to criminalise torture and thank God Nigeria has criminalise torture through Nigeria Torture Act of 2017 and interestingly, today, one of the things you will see is translation of the Anti Torture Act of 2017 in all the major languages of Nigeria.
"We are ready to say let all know what the law say about these issue and ensure that is not just knowing them but we should indeed implement.

"As part of what we are celebrating today, we know that it is not just enough to sign or ratify international issue, just like Nigeria has indeed signed, and also ratified the United Nations convention against torture and cruel. And there are obligations that are supposed to be kept and some of those obligations include sending reports to United Nations, including UN committtee against torture" she said.

Speaking virtually, Tony Ojukwu (SAN), Executive Secretary of the National Human Rights Commission (NHRC) said the commission stand in solidarity with stakeholders for the publication of resource materials.

He observed that the material will be of immense benefit, adding it will assist in law enforcement.

"Torture is a violation of Human Rights, no offence can justify torture" he said.

He added that NHRC will work with relevant agencies to stamp out torture. "We need to stamp out torture as we are doing today".

Ojukwu explained that the commission offices in the 36 states of the federation is open to assist torture victims and urge Nigerians to report cases of torture.

He therefore recommended the documents and resource materials for anti torture drive.

In a good will message, Dr. Issac Armstrong of the ECOWAS Commission, applauded the PRAWA initiative.

He described torture as a heinous and violent act perpetrated by human being to their fellow being, saying it cannot be justified.
"Anti torture law of 2017 is positive in the fight against torture, stressing that it is important to enhance intelligence gathering and information".

Mary Usman of the state Criminal Investigation Department (CID) was more emphatic. "The Inspector General of Police has warned us not to torture suspects".

"Torture is not a good way to handle suspects in the cell" Usman emphasised.

Similarly, Professor Tajudeen Akanji of the University of Ibadan, was of the view that capacity of citizens should be built to know their right.

Additionally, Mr. Danladi Plang of the British Council observed that torture is on the rise, adding that you cannot divorce it from violence in the society.

He noted that the publication is important for the education of all stakeholders.

Meanwhile, Tijjani Mohammed of the police service Commission, identified torture as evil, "we should do everything to eliminate it from our society.

He however expressed joy that Nigeria has taken positive step by the torture Act in 2017, arguing that "we need to enlighten the society on the Act".